Friday, October 1st, 2021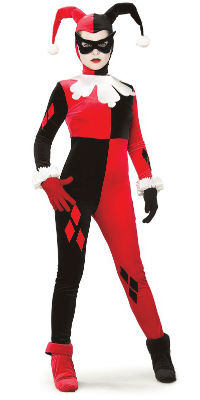 In the world of Harley Quinn, the classic unrequited love story comes to life. Harley Quinn is so hopelessly in love with Joker but the feelings are not mutual… but what they have in common is that they both love to be a super villain in Gotham City and battle Batman.
If you are a long time fan of this character, you remember Harley Quinn original costume design comes with a one piece black and red body jumpsuit with the attached red and black boot tops and the harlequin style white-collar. Also the black eyemask and the red and black gloves with shown trim and red.
Harley Quinn is one of the original infamous female villains in the Batman television and comic book series. Her backstory is she was initially a psychiatrist named Dr. Harleen Quinzel who took an unusual and obsessive interest in Joker who was in the custody of Arkham Asylum. She eventually falls in love with the Joker and then helps him escape from Arkham Asylum. She then becomes his blindly loyal sidekick.
The Harley Quinn costumes are inspired by harlequin jester. If you are looking to wear one of the classic costume design of Harley Quinn costumes this season then follow these instructions to make your own costume for cosplay or Halloween!
Harley's costume is based on a red and black color scheme. You can find the images of various original style Harley Quinn costume on the Internet for reference or use the one above. Once you have your reference model, you need to buy black and red leggings and cut them in half. The top part is quite tricky as you need to buy a red and black full hand top and cut off the sleeves completely. Then you need to cut the top in four equal parts. You also need to cut few diamond shaped patterns in red and black color. You can either use cloth or paper as you are going to sew or stick them on the fabric. You have all the pieces ready to make the perfect Harley Quinn costumes.
Now that you have all the required clothing pieces, the only remaining job is to sew them all together. Initially, sew one part of the black to the red legging. The top has alternate coloring and you should stitch the four pieces of fabric alternately so that it matches the Harley Quinn costumes that are found in the batman series. Stitch the black sleeve to the black legging side and the red sleeve to the red legging side. You just need gloves and boots in red and black color to complete the exact replica of the Harley Quinn costumes.
You can either create your own white wrist cuffs or else wear big white scrunchie on both your wrists. Finally, you need to concentrate on the neckwear and the jester hat. It is highly difficult to make a jester hat so it is best avoided. Alternatively, you can mess your hair completely and keep it messy with the help of hair spray. You just need to streak your hair in red and black color to match the outfit. The neck line can be easily made by cutting a white paper or cloth in the same shape and stitching it on the fabric. You should also paste the diamonds to match the Harley Quinn costumes that are found in the batman series. For the makeup, paint your face white and give your eyes a black and smudgy look. Now all you need is a black gothic lipstick to complete your Harley Quinn look. It will be one of the most authentic Harley Quinn costumes.
If you don't have time to create your own outfit, you can find an original Harley Quinn costume at a fair price. Check out these costumes available for adult women and children! Affiliate statement: As an Amazon Associate, HarleyQuinnCostumes.net earns from qualifying purchases from Amazon.com.



Original DC Comics Harley Quinn

---




Classic Child Harley Quinn Jumpsuit

---

Full Figure 1X-3X Plus Size Harley Quinn Costume

---
If you are looking for more Harley Quinn costume ideas for Halloween, check out these outfits on sale!