Thursday, October 26th, 2023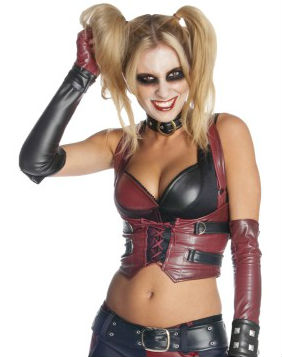 Halloween is only a few days away but with expedited shipping you still have a chance to get your costume just before your Halloween party! You can't afford to wait any longer so we complied the best Halloween costumes inspired by Harley Quinn! For comic book fans and cosplayers who love Harley Quinn and all of her stylish colorful outfits, we compiled a helpful list of Halloween costume ideas featuring the best Harley Quinn costumes for 2023! There are many outfit designs and styles based on this colorful character. If you are not familiar with her history, she is known as one of Batman's most notorious female nemesis who is also Joker's sidekick. She might be one of the most eccentric characters of all supervillains in Gotham City. Her notoriety is not necessarily due to her stylized harlequin outfit or her complex personality that fuels her unconditional toxic love for the Joker. What makes this notorious femme fatale specifically unique from her fellow Batman villains is her character was originally introduced on television instead of in the DC comic books.
On Sept. 11, 1992, TV viewers were introduced to Harley Quinn in an episode of the animated television program called "Batman: The Animated Series" on the WB network. Her cartoon character was voiced by actress Arleen Sorkin who brought a lot of energy and personality into the role. The animated villainess quickly gained popular with Batman fans, culminating in multiple appearances on the TV series and eventually getting her own graphic novel in 1994 called Mad Love that explores her origin and reveals her true identity as Dr. Harleen Frances Quinzel, a psychiatrist for a mental hospital called Arkham Asylum that confined The Joker.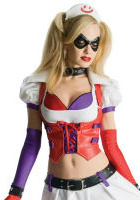 Harleen becomes infatuated with Gotham City's most infamous villain and Joker uses her crush to manipulate her emotionally and corrupt her morally into a criminal. The pair eventually have a love affair and the Joker grooms Harleen to become his infamous sidekick, The Harley Quinn. Now, Harley Quinn's popularity is greater than ever with her appearance on the "Suicide Squad" movie in 2016 which was released to great box office success! Harley's character was so popular in the movie that she got her own spin-off movie in 2020, Birds of Prey (and the Fantabulous Emancipation of One Harley Quinn)…yes, that's the entire title of her movie. As for Cosplay events, as fans of Harley Quinn already know, gives everyone a very good excuse to walk around town dressed up as their favorite bad girl! Halloween costume companies have designed and produced a new line of Halloween costumes based on Harley's character. Harley Quinn costumes also make great outfits for other special occasions such as cosplay and comic book conventions, Valentine's Day, and other fun holidays. So check out these sexy female Joker costumes, including the new Suicide Squad, DC Superhero Girls, Batman Arkham City, and Arkham Asylum costumes! Check out the latest Suicide Squad Harley Quinn jacket, shirt, pants, and accessories currently available for this season! This year we got to see Margot Robbie play Harley Quinn again in the new prequel to Suicide Squad by James Gunn!
Affiliate disclosure statement: As an Amazon Associate, we earn a commission from qualifying purchases from Amazon.com. We may also earn commission from eBay, HalloweenCostumes, and other online stores.
The Most Popular Harley Quinn Costume Ideas for Halloween 2023



Secret Wishes Arkham City

---




Original DC Comics Harley Quinn

---

Plus Size 1X-3X Original Harley Quinn Jumpsuit Costume for Full Figure Women

---
Deluxe Suicide Squad Movie Costume

---

Super Deluxe Harley Jacket Suicide Squad

---
Child Harley Quinn Skirt

---

Child Suicide Squad Costume

---
Suicide Squad 2 Harley Quinn

---

Harley's Motorcycle Jacket

---

New Plus Size Harley Quinn Costume for Full Figure Women

---
Harley's Birds of Prey Costume

---

Child Birds of Prey Costume

---
Harley's Gold Overalls Costume from Birds of Prey

---

Plus Size Gold Overalls from Birds of Prey for Full Figured Women

---
Arkham Asylum Nurse Harley Quinn

---




Retro Harlequin (Small – 3X Plus sizes!)

---
Plus Size Harley Quinn Costume

---

1X-4X Plus Harley Quinn Dress

---
Hot Harley Quinn Dress

---

Sexy Harley Dress (X-Small to 4X Plus)

---
DC Super Hero Girls Harley Quinn

---

Classic Child Harley Quinn Jumpsuit

---
Child Harley Quinn Costume

---

Superhero Girls Hooded Harley

---
Arkham Knight Harley Quinn

---




Combat Harley Costume

---
Arkham Asylum Costume

---

Sexy Villain Harley Dress

---



Naughty Harlequin Clown

---




Deluxe Court Jester Dress

---
Affiliate Disclosure: HarleyQuinnCostumes.net is a participant in the Amazon Services LLC Associates Program, an affiliate advertising program designed to provide a means for sites to earn advertising fees by advertising and linking to Amazon.com.
If you are in a big hurry, many of the seller above have expedited or overnight next day delivery so make sure to read all of their details. So let's review these Harley Quinn Halloween costumes. The first outfit Arkham Asylum Harley Quinn is produced by Secret Wishes and Rubie's. This attractive costume features a nice darker black and red tone faux leather top that reveals the shoulders and stomach. So if you want to show off and look really sexy on Halloween, we recommend this one. This will get you plenty of attention. This officially licensed costume also includes the matching red and black pants as well as fingerless gloves and choker. You can purchase these in sizes small, medium or large.
On the other hand, if you are a little more modest, you can put on the more traditional Harley Quinn costume that you see her wearing in Batman The Animated Series and early versions of her in the comic books. This one is only available in sizes small or medium so we don't recommend it for larger women. It features a red and black jumpsuit with accessories such as the black eye mask, white collar, harlequin headpiece, red/black gloves and boot tops! This version has been selling for years and a good costume for those who can't afford the hand sewn cosplay versions. This year we saw the release of new outfit designs based on the new animated series DC Superhero Girls which is for a younger audience and for the other crowd, we have the new Suicide Squad where more street wise Harley is featured in a new blue and red color coordinated jacket, shirt, and shorts. This is just a small sample of what is available. We will be posting more Harley cosplay soon! Happy Halloween everyone.
Harley Quinn's notorious character initially debuted on an animated Batman TV series during the '90s. She was created by Paul Dini and Bruce Timm. Her popularity was noted by DC Comics who adapted her character in the comic book universe with Joker and Batman. Fans first saw Harley get adapted to print in the graphic novel Mad Love where we learn a lot about her origin. Dini and Timm were also involved in Mad Love, writing and drawing her character in the comic version of the character. The story explored Dr. Harleen Quinzel's first meetings with the Joker who was a resident of Arkham Asylum, a mental hospital where Dr Quinzel worked as a psychiatrist. Despite her profession, the Doctor had deep emotional issues and a personality disorder, which made her an easy victim for the manipulative Joker. She became infatuated with The Joker, purposely setting up interviews with him, asking him personal questions and insisting that he called her Harley Quinn. The Joker took note of her obsession with him and saw her crush an opportunity for hims to find a way to escape from the asylum. The Joker hooked her into an abusive relationship where he would emotionally manipulate her. He eventually influences her to destroy her profession at the hospital by helping him escape and joining him in his life of crime as his sidekick the Harley Quinn. Together, they terrorize Gotham City and seek revenge against their ultimate rival, Batman.
In Batman: Arkham Asylum, Harley Quinn's outfit changed dramatically. Instead of her trademark red and black jester jumpsuit, her costume became a combination of a white nurse dress and a multi-color leather outfit consisting of a corset, long boots and glove-lets. Harley dropped her jester cap to reveal her blonde hair in pigtails, wearing a nurse's cap. Overall, the character's new look was more goth and punk, giving her a more edgy and sinister appearance that reflected her unstable and wild personality.
If you need help with applying Harley Quinn face make-up for your cosplay character or Halloween attire, check out this tutorial video below!
Harley Quinn Arkham City Make Up Tutorial
Harley Quinn's Suicide Squad 2 Movie Trailer